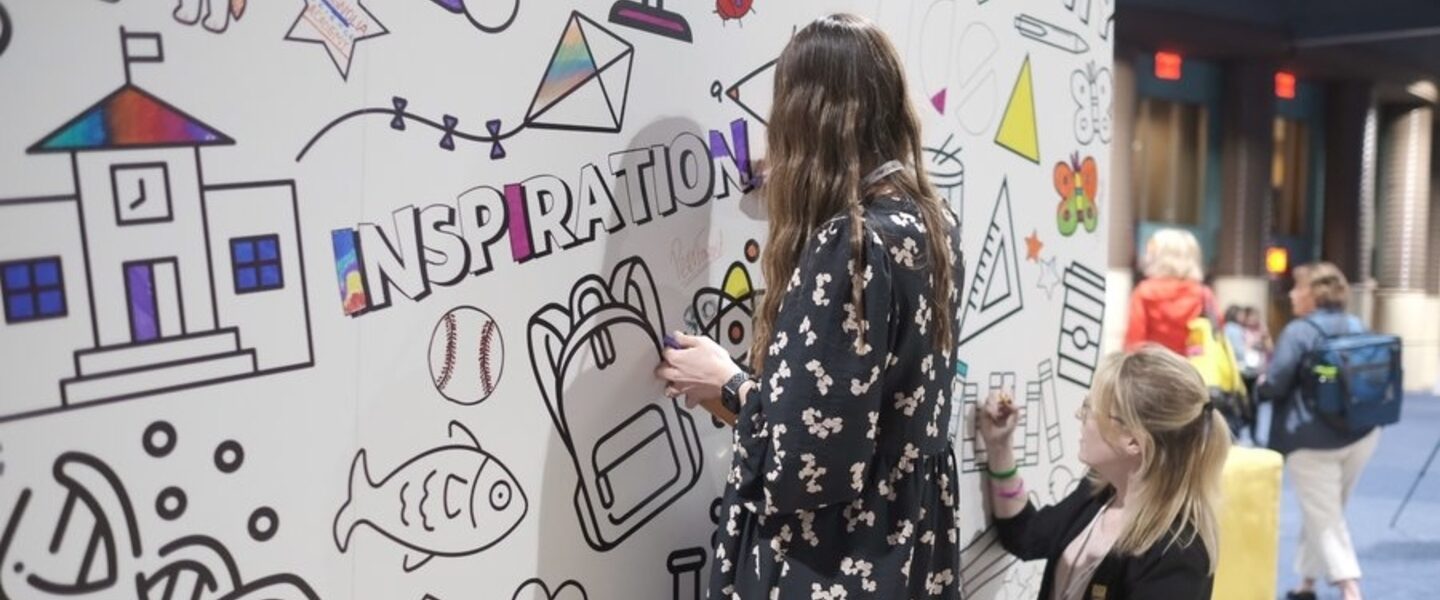 "Leaders have to be curious in order to drive the work they lead forward. If innovation drives creativity, then curiosity must drive innovation." These wise words from keynote speaker Genein Letford were a fitting end to the 2022 CCSA California Charter Schools Conference – a week of celebrating charter school leaders' strength and perseverance. In a deeply grounding "coming home" moment, leaders in public education gathered, after two long years apart, to share their stories in person once again. They have not only demonstrated incredible resilience throughout the pandemic, but also persevered and offered a bright light in educating and innovating for the students of Southern California.
Taking all this in with me was Blue Garnet's co-founder and senior partner Jennifer Li Shen. Blue Garnet is a team of learners, so imagine how much Jenni and I geeked out at the CCSA workshops and breakout sessions! Who better to learn from than these amazing charter school leaders? While we gleaned so much from all the conference speakers and attendees, we wanted to highlight a few superstars that really inspired us.
Thanks to the "Black Minds Matter" panelists for sharing ways to educate Black students with excellence and unconditional love in schools. Even your means of student discipline can be playful, yet deeply compassionate. For example: telling a student texting in class that you'll post a selfie on the two of you on their Instagram if they don't put away their phone!  This perseverance and care is what students need from their teachers. As Dr. Griffith said, "Failure is not an option – FINO!"
Leaders like these infused spirit into their schools and helped their students thrive using some very creative ideas! One downright hilarious example: teachers organizing "Anything But a Backpack Day," and one student bringing his pet chicken's carrier in lieu of his regular Jansport.
CCSA was also a time to meet with Blue Garnet friends new and old, and celebrate all that they have done and will do this year. Shout out to our friends at CharterSAFE for being great partners to your charter school members year round. Thanks to the leaders of Charter Impact (Spencer Styles, Jason Sitomer, Parker Hudnut, Valerie Braimah) who demonstrated how to take Boards from good to great through strategic planning – music to our board consulting ears!
We also appreciated Richard Reyes, founder of The PLUS ME Project and 2022 HALO Award Recipient, for sharing his personal life story with heart and honesty, and leading by example. His workshop empowered educators to share their own stories with each other and to activate the art of storytelling in their classrooms.
Last, a special thanks to the wonderful leaders of ExED, with whom Jenni is honored to serve on the Board and pursue educational excellence for underserved communities.
Though the future remains uncertain, we are certain that we have a resilient group of leaders to weather current and future storms. We thank each and every one of you for your dedication to and care for the students of Southern California. We are honored to have you to guide our youth and pave the way towards better education for them, which means a better future for our world.
Did you attend CCSA, and have a memorable moment or shout out to share? Let us know at hello@bluegarnet.net!
Back to Blog