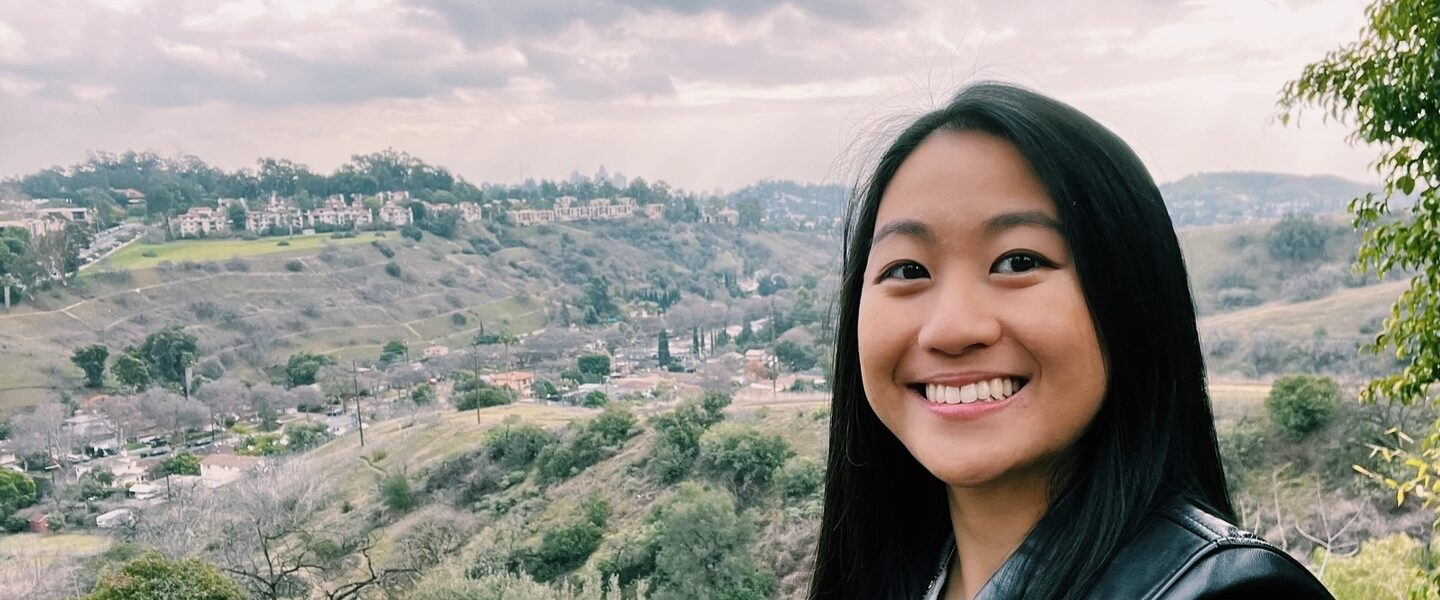 Hi there! I'm Yee-Sum, a new Analyst at Blue Garnet. It's been a whirlwind three months since I joined the team – I've already met and been inspired by many people and become quite familiar with Microsoft Excel. What I haven't done yet is to formally introduce myself – so here's a bit more about me and what I've learned from being a part of Blue Garnet so far.
My name means "Use your heart" in Chinese. This is the lens through which I've crafted my people-centered approach to life. It's also what drew me to the work of social impact and to the doors of Blue Garnet. I graduated from the University of Southern California in 2021 with a degree in International Relations and Global Business and the strong desire to work with others who serve people and the planet with heart. The Blue Garnet team, and the leaders and visionaries we work with, are all this and more. They bring true heart to their work, and I'm deeply inspired by their shared belief that the social challenges of our world – however insurmountable they may seem – can be solved. I'm honored to be a small part of work that gives hope to the people and communities of Southern California in big ways. That's another thing I love about life at Blue Garnet – our "maximizer" mentality. If you've spoken with the Partners (or really anyone on our team), you know Blue Garnet doesn't settle for small change! Every member of our team pushes themselves, others, and ideas forward so that good becomes better, and impact goes farther. This has already been a great encouragement to me professionally, as I personally strive to add value and center purpose in everything I say and do. With its drive for excellence, coupled with its culture of continuous learning, BG is a powerful force in the world of social change.
Adopting "The Blue Garnet Way" involves a lot of learning, to say the least. In my short time at Blue Garnet, I have already:
Analyzed survey results to an almost dizzying level of detail – teaching me analytical rigor, an awe of what good data can reveal, and a love for Excel conditional formatting
Spoken with charter school leaders who inspired me with their strength and resilience during the pandemic, as well as their tenacity to educate, advocate, and innovate for their students moving forward
Supported a cohort of nonprofits who are empowering each other through a capacity-building program (allowing me to both teach and learn)
Engaged in a very involved debate on the merit of lemon Girl Scout cookies, leading to some interesting insights about the Girl Scout cookie business model. Who knew cookies could be so controversial?
There's plenty more I could say about what I've learned, but I'm most looking forward to what lies ahead. You can read more about my background in my bio. And if you have any questions about Blue Garnet, I'd love to chat! Feel free to say hello at yee-sum@bluegarnet.net.
Back to Blog