by: Leah Haynesworth
Robots are here and they are transforming how we solve complex problems, including those in the social sector. At the University of Southern California (USC) Viterbi School of Engineering's Robotics Open House this past spring, we caught up with some budding changemakers whose robots are helping to create positive social change.
Changemaker #1: Jens Windau, a Ph.D student,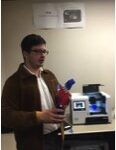 founded AIO Robotics. His company prints 3D hands and wrists in Los Angeles. Typically, prosthetics take approximately four to six weeks to be delivered and cost over $5,000. These 3D-printed prosthetics, however, can be printed in 24 hours and cost $20, significantly reducing the wait time and cost of prosthetics.
Jens has used his work to create a better Southern California by donating 3D-printed prosthetic hands and wrists to Children's Hospital Los Angeles (CHLA). In the future, he said, 3-D printed prosthetics could expand to include other body parts, like feet.
Changemaker #2: Rorry Brenner has developed a vision-based system that allows robots to guide blind people through the grocery store. In his study, Rorry blindfolded 45 participants to see if they could find a box of Lucky Charms with this system. He witnessed 100% accuracy and is now trying to incorporate a high-definition camera into the system to increase speed.
Robotics has already started to combat pressing social issues, even though it is not necessarily the most obvious complement to social change. "There are problems that people don't even consider tech being able to solve," Rorry said.
Can robots help you? Where to start:
Curious to know if robots are in your future? Brenner recommends carefully examining artificial intelligence (AI) as a tool when looking to solve social problems. In order to capitalize on, or at least recognize, how robots can help affect change, those of us in the social sector should:
Stay aware of the advancements in robotics and artificial intelligence
Realize that there will be an increasing number of partnerships that can be created between the social sector and the field of robotics
Start to understand what we do not understand; robots do not have to be seen as scary
To get you started, we wanted to share three resources that we have found about the cross-section between robotics and the social sector:
Information about e-NABLE, a Google-sponsored community that prints 3D hands
Background on OpenAI, a recently created non-profit AI research company associated with Elon Musk whose objective is to advance open-source-friendly AI in a way that benefits humanity
We're "geeking out" (and hope you are now, too!) about how robotics will impact the social sector in the future. Do you currently use robots in your social change work? Let us know how by commenting below.
Back to Blog