by: Marcelo Pinell
Setting sail on the sea of social impact can be a daunting and overwhelming feat. Some, out of fear, have yet to leave shore while others have been tossed and turned by the challenging waves of the social sector. As the newest member to step on board Blue Garnet, I have been privileged to navigate these vast waters with a team of skilled and experienced social impact geeks who have steered through the rough seas, withstood the storms and driven the high winds of strategy to help leaders and their teams chart their ultimate impact.
Recently, I had the opportunity to witness these social impact geeks in action as I provided support for our Impact Formula Strategy Lab series. We had three eager organizations initially commit to investing in the development of their strategic thinking for three sessions spread across May through July. I was able to join the second session in June and watched the teams progress all the way up to a fourth session this November, which was later added due to popular demand. As it turns out, the work done during this Lab series was not what I expected. The following are some key insights that I walked away with after the Lab. I hope my reflections serve as a fresh perspective on the value of this Lab series in helping leaders create impact.
The right dosage can help leaders and their teams address their outcomes
Truth be told, not every nonprofit can afford consultants who can extensively work with them one-on-one for months on end. Plus, some nonprofits may not even need the full services of a consulting firm.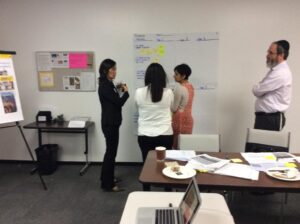 The Strategy Lab proved this point for me. Providing the correct dosage of support can help leaders and their teams address their outcomes. From May through July (and then once more in November), we trained and educated teams from three organizations. Once a month, they attended a half-day session in which they actively learned, participated, and worked through their Impact Formula. These teams would then go back to their organizations to work on assignments from the session and would return for another session the following month to gain more clarity and continue to build on their work. It was an iterative process that demanded hard work, but after the Lab series, these teams left with the tools and confidence they needed to head back as change agents for their organizations.
Consultants are not the changemakers, leaders are!
I'm sure you've heard this proverbial saying before: "Give a man a fish, and you feed him for a day. Teach a man to fish, and you feed him for a lifetime." I began to see this proverb unfold before my eyes as I watched the Lab participants wrestle with strategic questions. More than giving them a business model, the Lab gave participants the time and space to work as a team with other people in their organization, which is typically difficult to do due to competing priorities and schedules. Additionally, the Lab allowed participants to gain awareness of a holistic view on achieving their "ends," ask key learning questions and acquire strategic tools so they could think critically about their organization's impact.
The assumption so often is that the professional consultant creates the impact. Though there is a place for consultants, no one can replace the passion and hours that these leaders give to the people they serve. If you can help equip a leader and deputize them as a change agent, then he or she can build a culture of change.
Reaching your intended impact is an intense, iterative and invaluable process
During the Lab, all of the teams got on board and steered through some serious strategic questions. As they sought to gain clarity, though, I noticed that their comfort articulating their theory of change interestingly and surprisingly took a slight dip during the second session.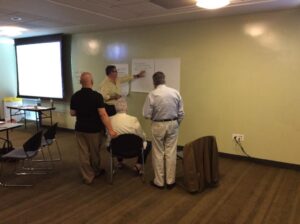 On a scale of 1 (low) to 5 (high), the teams rated their comfort articulating their theory of change a 3.6 after the first session, which then dropped down to a 3.3 after session 2. By the third session, however, the rating jumped back up to a 3.8. The data seems to point to the reality of the intense and iterative nature in building discernment. From my perspective, the teams were initially shocked by some big waves regarding their theory of change, but they gained more confidence and clarity over time to create a vision for impact.
The teams were able to create a vision for impact not only because they iterated on their own work, but also because they learned from each organization's different approach to tackling its Impact Statement. The value of peer learning was so great that the teams asked for a fourth session, which we completed last week. This additional session allowed the teams to check-in and hold each other accountable to their work.
Navigating the waters of social impact can be overwhelming, but the opportunity to help these organizations map out their impact was an invaluable journey for both them and me. I jumped on board the Lab and saw that it provides the right dosage to help these changemakers "zero in on impact." Great job, teams! I look forward to the impact that comes forth as a result of your labor. Keep on sailing!
Back to Blog