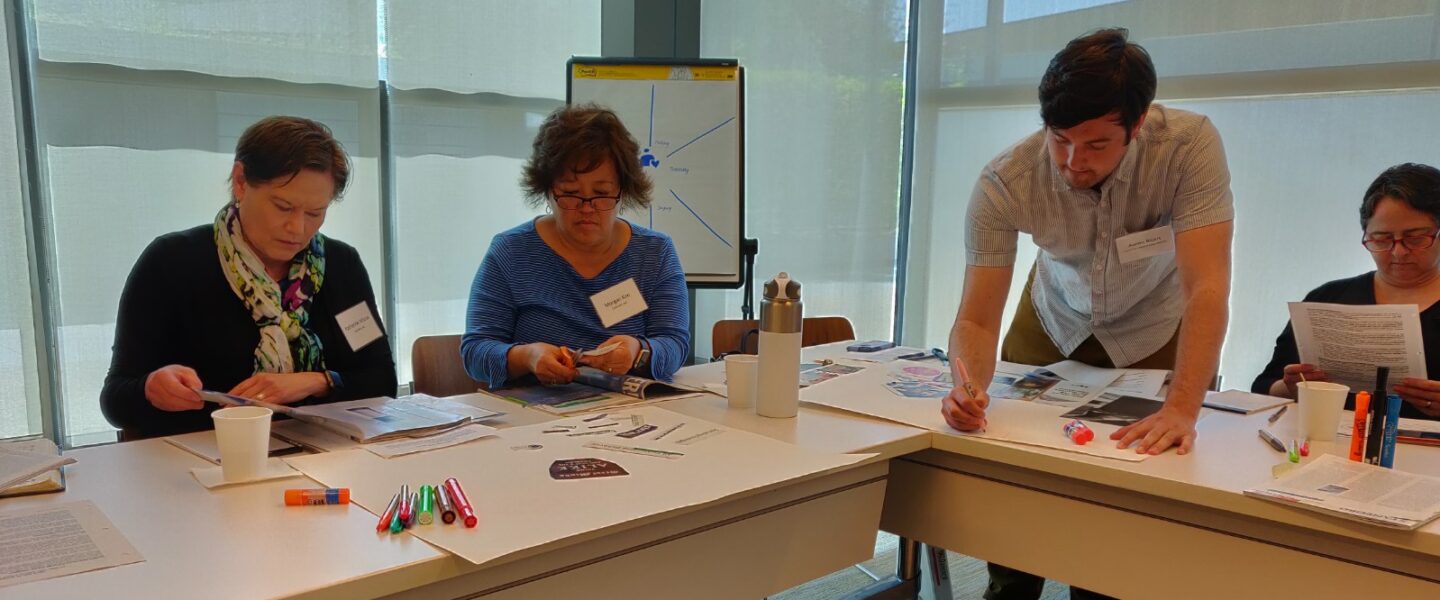 We've made the case before– strategy and evaluation are the "yin and yang" or two sides of the same coin of social impact. It's easy to silo the two, and strategy formation is often seen as something distinct from evaluation and learning. But between the two of us working on either side (Yee-Sum on strategy and Sarah on evaluation), we've seen those seemingly opposite worlds collide– with great success! When organizations integrate strategy and evaluation, they create greater and more measurable impact. The effective and continually-improving performance that this unlocks is a harmonious melding of mutually reinforcing efforts.
This plays out in our work with long-time partner The Carl and Roberta Deutsch Foundation. A pioneer in building capacity for volunteer programs and their organizations, the Foundation has sought to continuously improve and learn from its HALO Award program. And, for a decade, Blue Garnet has served as both Technical Assistance (TA) provider and learning partner for the program. Eleven cohorts later, the data confirm our original hypothesis – investing in your volunteer program can have ripple effects across your organization's capacity.
The Yin: formation of HALO capacity-building strategy
But before we geek out about this whole "yin and yang" thesis, you probably want to know more about the HALO Award program! For awardee organizations, this year-long, team-based program is designed to enhance organizational capacity by strengthening volunteerism. It's quite an experience to be in the room during a Peer Learning Session, where teams from the current 6 awardee organizations come together to synergize their learnings and work through formative exercises. Participants continue to explore ideas surfaced through the sessions during Blue Garnet's one-on-one coaching sessions with each organization's team.
Through HALO, the awardees strengthen volunteer management via useful frameworks, development of a living  volunteer management plan, and practical input and feedback. All together, these different facets of the HALO program guides to awardees think more strategically, act more intentionally, and learn more continuously about volunteerism at their organization. That's the "yin" of strategy formation. (But don't just take our word for it – you can learn more about the HALO Award from awardees' perspectives by visiting the HALO Stories website.)
The Yang: evaluation illuminates HALO's impact and improves program
You might be wondering, if strategy is the "yin", where does the "yang"– evaluation– come in? Since starting the HALO Award in 2010, the Foundation has sought to improve the program process and impact. To do so, Blue Garnet has collected real-time feedback throughout the year, and administered more formal assessments at three checkpoints (before, immediately after, and one-year after the program). With findings in hand, we've engaged Foundation staff and Trustees in learning conversations to glean insights and process implications for future cohorts.
The real-time feedback on participants' experiences allows us to refine our support as they participate in the program. The more formal assessments answer specific learning questions – this informs improvements to program design and curriculum to better impact future cohorts. For Blue Garnet, the opportunity to support HALO directly and facilitate its continuous improvement is really a dream come true!
So what have we found, after nearly a decade?
After a decade of partnering on the HALO Award, we've seen incredible transformations in more than 60 awardee organizations, both during and beyond formal HALO program support. Simply put– investing in volunteer programs has real power and real returns, and the data are evidence of both. Over time, as we've incorporated past learnings and evolved the program, we've seen awardees apply the strategic mindset of HALO to their volunteer programs in powerful ways. This includes enhancing recruitment and retention of volunteers as well as the use of data to inform decisions (our favorite!). But beyond volunteer management, the data also suggest another huge finding: the HALO Award contributes to increased capacity across the organization.

Integrating strategy with evaluation: worth it!
Strategy formation in concert with evaluation for learning results in greater impact, and the data and insights from our HALO Award experience attest to that. After 10 years across 11 cohorts, learnings from ongoing and formal assessments have directed how we set strategy for the HALO program, helped us better serve awardees, and shown us that the work makes a difference. And, it's just kind of fun to see well how the two actually intertwine! We're privileged and thankful to have a collaborative, curious and data-driven partner in The Carl and Roberta Deutsch Foundation, who is always eager to dive into data and learn together to generate impact.
If you're curious about this model of intertwining strategy and evaluation and would like to know more about how Blue Garnet can support your organization in these areas, please contact us at hello@bluegarnet.net. Or if you're a philanthropy interested in supporting similar capacity building programs, reach out to the Deutsch Foundation and learn more about the HALO Award from awardees themselves on the HALO Stories website.
Back to Blog