By Sofia Van Cleve
Three months of working as an Analyst at Blue Garnet have flown by! My name is Sofia Van Cleve, and I'd like to formally introduce myself while also giving you a glimpse of what it's like to start working at Blue Garnet.
To give you a better picture of who I am, here is a picture of my face. What this picture doesn't show, though, is my mixed, and often confusing, background. (Hang in there for a few seconds!) I was born in Sweden to a Swedish mom and American dad, who had met in Albania as young church planters. We lived mainly in Greece and Albania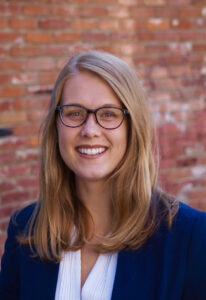 , with a few months in Scotland, Sweden, and Romania, before we moved to Orange County, California when I was fourteen years old. My years surrounded by poverty abroad inspired me to study International Development at UCLA, from which I graduated in the fall of 2017. I'm dedicated to seeing renewal happen in the world, and Blue Garnet is the perfect place to learn how organizations make lasting change on a local level in Los Angeles.
 But what exactly does Blue Garnet do as a social impact consulting firm? Many people ask me this today, just as I did when I first heard about this industry. Essentially, we help coach, develop, and evaluate organizations working in the social sector. Our clients span foundations, nonprofits, and businesses, who all invest in their strategy and talent to better focus on long-term impact. Many of my coworkers came from for-profit consulting backgrounds, where they helped companies maximize profit; but they migrated to Blue Garnet with a desire to use their skills and giftings to maximize social change.
Entering into this space and adopting the "Blue Garnet Way" necessitates a lot of learning. I had studied some program design, evaluation, and statistics in college, but I definitely needed to tune up my skills in data analysis. I read Naked Statistics and Evaluation in Organizations, as well as taking an Excel course online, to tackle my first project: analyzing multi-year survey results from a nonprofit cohort evaluation. It was daunting, but pretty interesting. I've also participated in webinars on topics like social media for social impact, equity in philanthropy, and research on nonprofit sector trends. I totally nerded out over the report "A Portrait of LA1," which analyzes the American Human Development Index across LA County, segmenting by ethnic group and geographic region. I brought this book to the beach after work (oh, did I mention our office is a 5 minutes' drive from the beach?) on a Friday and sat for hours reading it. What more could I ask for? The beach close by and a work culture that embraces geekiness? I'm sold!
Other than just being social impact geeks, the Blue Garnet team works on fascinating and diverse projects. Though there is truly no typical day at Blue Garnet, my favorite days are meeting with our clients across Los Angeles and Orange Counties. We regularly travel to in-person design and strategy sessions, focus groups, and other meetings. We've had research and learning presentations for a foundation in Santa Monica, volunteer management discussions with nonprofits in Pasadena and Claremont, and conferences in downtown. I'm a huge extrovert, so I really value getting to know our clients face-to-face. Then I love spending quality time on the drives with my coworkers, and LA traffic often gives us plenty of time to chat (if you've been in LA more than 2 hours, you know what I mean!)
I would be remiss to share the Blue Garnet life without giving a shoutout to my team. They are seriously the most brilliant, passionate, and caring collection of people I have ever met! They have welcomed me into their lives by taking me out to lunch, inviting me to their Kentucky Derby party, letting me come with them to pick up their kids from school, making sure I go to the doctor when I need to, and always caring about me as a person, not just an employee. I'm tearing up as I write this, overwhelmed with gratitude for the chance to work at Blue Garnet.
Whether you're a college student looking for hope that postgrad life is truly good, a Blue Garnet client, or a fellow social change agent curious about working with us, I hope this brief introduction gives you a better flavor of the Blue Garnet team and the life of a social impact consulting Analyst.
Feel free to send me a hello or any questions you may have about Blue Garnet: sofia@bluegarnet.net. I hope to meet you soon!
——————-
1  A Portrait of Los Angeles County, found at http://www.measureofamerica.org/los-angeles-county/
Back to Blog