By Sofia Van Cleve
Building an impactful social enterprise is far from easy. Through the ups and downs of Blue Garnet's 15+ years working in social impact consulting and building our own social enterprise, we've learned some huge lessons in social entrepreneurship the hard way. In late April, we had the chance to talk about these learnings at Social Enterprise Alliance-LA's new event, the Professional Services Night. Along with six other volunteering organizations—spanning social media, tech, law, and strategy consulting—Blue Garnet was happy to provide our pro bono help to the participants.
The creativity and passion we saw during the night got us super excited about new social enterprises in LA and wanting to share some tips with social entrepreneurs at large. Our co-founder, Way-Ting Chen, and the attendees explored how to impr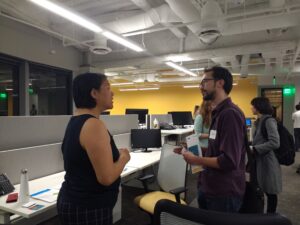 ove their existing organizations or build their entrepreneurial dream with an eye for impact. Daniel Nash, a music composer and web designer, said Way-Ting's help was "Phenomenal—I got the next steps for my business idea and steps down the line that I had no idea about. She helped me think ahead and know what resources I need to connect with and when I will need them." We loved chatting with people like Daniel (and not just because he gave us the nicest compliment in the entire world!), but we don't want to be stingy with our advice. So we're going "open source" with our recommendations, hoping they'll help other social enterprises out there, too.
If you want to maximize your impact and develop a high-performing organization, you need to make sure your organization has the following four components.
What You Need to Know About Impact as a Social Entrepreneur: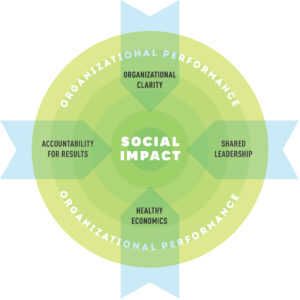 Organizational clarity: Start with the end in mind. What impact are you trying to achieve through your social enterprise? What are the top three things YOU need to do really well to get there?
Shared Leadership: Bring others on board to do this together and build your team to complement your strengths.
Healthy Economics: Align your business model to your goals by focusing on who your target client is, what you offer them that truly makes a difference, and how you can afford to do so over time.
Accountability for Results: Define your 10 key measures of success related to both impact and performance. Gather and analyze relevant data for insight, then iterate your strategy.
It's okay if you don't have all of these right now. The good news is that you can build them over time. If you have questions or want to build these for your organization, please contact us at sofia@bluegarnet.net.
We hope that the Services Night and Blue Garnet sharing these four tenants of impact will inspire social entrepreneurs in LA and beyond!
---
A special thanks to SEA-LA and Danny Brown for organizing this event, and West Monroe Partners for hosting! Thanks also to Daniel Nash for your incredibly kind words (we're still blushing!).
Back to Blog