Think impact assessment has to be costly, drawn out, or tedious? Think again. Sara Beggs, the mastermind behind the 10-minute impact assessment, recently spoke with us to share "the 10-minute impact assessment," a simple tool to increase impact and identify behaviors where you can focus energy and grow.
As Senior Program Director at Exponent Philanthropy, an organization dedicated to empowering philanthropists to leverage their resources and amplify their impact, Sara has taken this assessment on the road, sharing it funders in LA and nationwide. Read on for highlights of our conversation!
Inspiration behind the ten-minute impact assessment
We all want evidence that our efforts to support positive social outcomes are effective, but impact can be intimidating. We at Blue Garnet believe there is a rigorous yet practical and approachable way to discuss impact, evaluate your behaviors, and improve. So does Sara:
Small funders that needed an accessible way to think about impact inspired us to develop the assessment. We brought together a 45-member working group to help us better understand what they were experiencing in the field, and we had a breakthrough when a member mentioned how useful a diagnostic tool could be.
Now, with the 10-minute Impact Assessment, funders can identify where they are on a simple spectrum (from "thinking about impact" to "planning for impact" to "amplifying impact"). Then, using the accompanying resources, they can identify opportunities and measure their improvement over time, to ultimately spur more impactful grantmaking.
We at Blue Garnet see Exponent Philanthropy's assessment as a simple starting point for both staff and Board to catalyze conversations around impact.
Resources for organizations interested in evaluating their impact
Blue Garnet believes that evaluation can serve as a learning opportunity, helping an organization to move toward their intended impact, instead of retrospectively answering the question of whether we reached a target. Exponent Philanthropy encourages this mindset by providing resources to funders:
Once a foundation takes the assessment, they want to know is what to do next. So, we included tips, resources, and examples of how other foundations have improved, so that after competing the assessment, foundations are equipped to move the conversation forward and begin to make more intentional and effective decisions.
The assessment's results
Understanding where your organization is at today is only the first step of the journey. How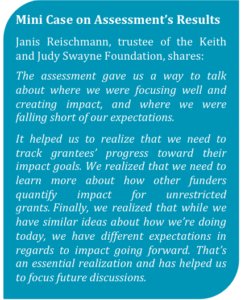 have leaders used the assessment as a springboard for improvement? Sara shares:
The assessment engages decision-makers to contribute insightful ideas, empowering them to contribute and ask good questions to move the organization forward. After the assessment, they see impact as a journey where they will continuously learn, improve, and push the envelope by asking, "How can we do more?"
They use the assessment to create greater focus, and to understand steps they can take to make measurable progress toward their desired impact.
Where Exponent Philanthropy is taking it
Sara and Exponent Philanthropy aren't resting on the success of the assessment—they too are on a journey to deepen their impact.
We're excited to be developing an online version of the assessment. With this new iteration, organizations will quickly be able to analyze their results and benchmark to similar organizations.
We will continue to leverage the resources developed for the assessment, share stories about how organizations are moving along the impact spectrum, and help funders to start taking clear steps toward increased impact. The assessment prompts important conversations and mind shifts, which can have a profound impact on an organization's grantmaking. Moving forward, we're excited to help prime even more philanthropies for amplified impact.
The two essential things you can do to amplify their impact
Be intentional. If you are not thoughtful about what your organization chooses to do (and not do), you may become so overwhelmed by the things you say yes to that you miss out on better aligned opportunities. Furthermore, deliberate decisions will help you to be more adaptive in this rapidly changing and complex environment.
Bring all of your assets to the table. You may not realize that in additional to financial support, your thinking, influence, and bird's eye view of the sector can prove extremely valuable to your grantees and your community. Think creatively and you'll be surprised at what you can do!
To download the (free) 10-minute impact assessment, click here. For additional information about Exponent Philanthropy, check out their website or follow them on twitter, and for additional resources on impact, including our impact thinking briefing, check out Blue Garnet's resource page.
by: Taylor Chamberlin
Back to Blog