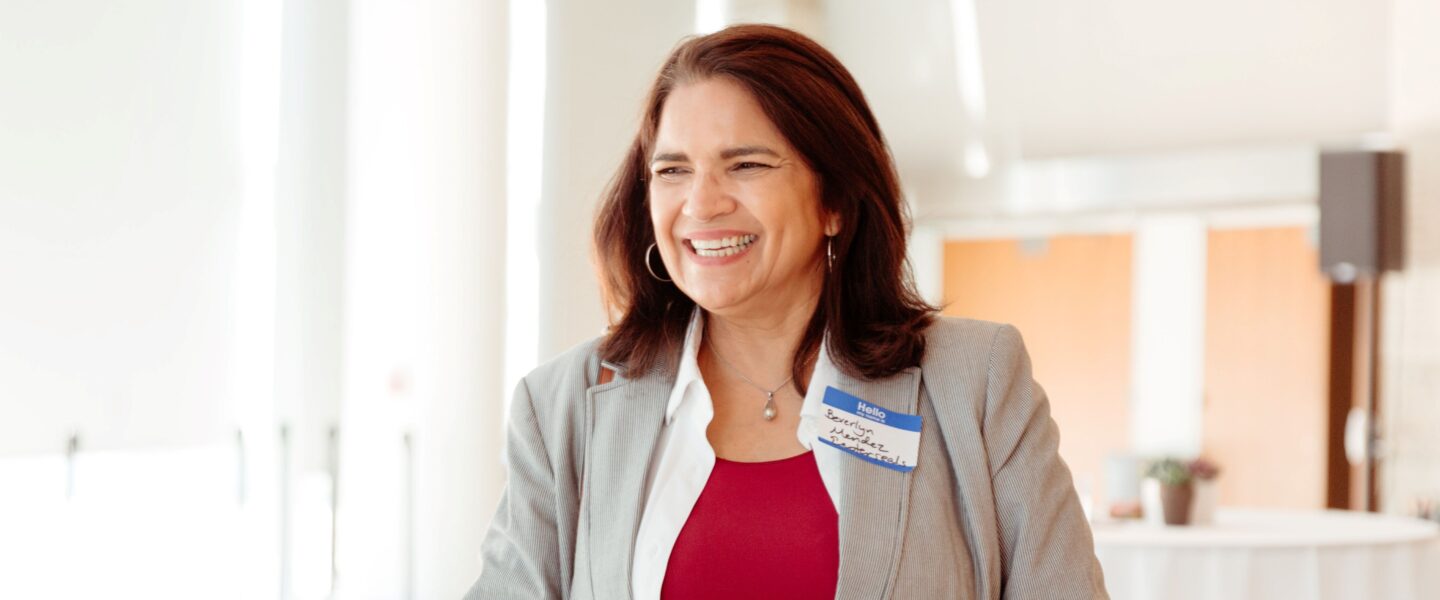 June 2020 / Sofia Van Cleve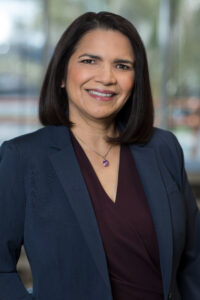 At Blue Garnet, we are honored to partner with passionate leaders who are working hard to tackle the most pressing social inequities of our time. In our Local Leader Spotlights, we celebrate one of these wonderful leaders. This month, I (Sofia) chatted with Beverlyn Mendez, COO at Easterseals Southern California. Easterseals (hereafter, ESSC) works to change the way people define and view disability, and provides services to people with disabilities. Blue Garnet has been working with Bev and her team for the past two years on strategic business planning and implementation. We are continually inspired by Bev's kindness and wisdom, and we hope to share some of that with you today!
Blue Garnet (hereafter, BG): Bev, you've worked at ESSC for 30 years, which is truly remarkable!  What's your WHY? What makes you get up and go to work every morning?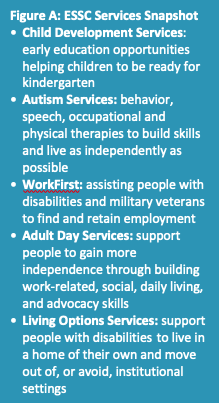 Bev: The ability to contribute and lead at Easterseals is very fulfilling to me personally; it really is a tremendous organization. Our team here has a combination of heart and talent that is so unique. This also describes our participants and families. There's such an incredible synergy that goes on within the organization that makes it an amazing place to work.
I am also passionate about our services! ESSC supports people with disabilities throughout their lifespan (see Figure A.). Personally, inclusion and community living for people with disabilities also drives me. I went back to complete my doctoral degree several years ago and wrote my dissertation on the role of disability advocacy in deinstitutionalization. (more on this in a minute!)
BG: ESSC is meeting this moment with COVID-19 head on (ESSC blog here). Could you share about ESSC's approach and innovation responding to the pandemic? And challenges you're facing?
All our services have continued in unique ways. Like all organizations now, we're leaping forward with technology in remote services and telehealth, like providing Applied Behavior Analysis, Speech, and Occupational Therapies and Social Skills Groups remotely. Across sectors, barriers to remote services have eroded. We're moving forward to fill gaps and meet people's needs where they are. That means reaching out to people in their home environment, and in the case of our Child Development Services, also providing resources like food, formula, and diapers to families to help meet basic needs during the crisis.
It is harder to reach some individuals during this time, though, including those who live in large congregate settings. They are more intensely affected by the pandemic; they're more isolated and at higher risk of infection. We usually support these individuals to be active in their community through our Adult Day Services. In the midst of the pandemic, people who live in institutional settings are the hardest to reach, and that's heartbreaking.
We have learned a lot, though, during this time. As people begin to go back to their regular routines, we want to carry forward what we've learned in remote services and telehealth. We want to continue and build on this creativity and new ways of connecting.
BG: Like this example you shared, we've been talking at BG about how the pandemic illuminates cracks in our systems to a broader audience—surfacing inequities in technology access, job security, affordable housing, food security, etc. How else has the quarantine revealed systemic inequities for people with disabilities?
Isolation is a significant issue for people with disabilities across all age groups, and it's further intensified by the pandemic. ESSC supports people to be a part of their community, to engage with others, find jobs, and develop friendships. Obviously, this has been a challenge for everyone under the safer-at-home orders. But that isolation is not new for people with disabilities, and it's just further exacerbated now. Similarly, families who have children at home (with and without disabilities) have been under far more stress during this time, and this is even more of a challenge for parents who have children with disabilities.
BG: In a way, the rest of the world is experiencing a glimpse of the challenges people with disabilities face daily. With this new empathy, is there anything our readers can do to support people with disabilities now or post-COVID?
Yes! We encourage everyone to be inclusive and to make all opportunities as accessible as possible (resource here), including book clubs, classes, or other activities you're organizing. At ESSC, our vision is to make Southern California the most inclusive place for people with disabilities to live, learn, work, and play. That means people can help make everything from schools, jobs, social experiences, and housing more inclusive.  We are passionate about what happens when people with disabilities are included.

BG: You just mentioned ESSC's vision for impact developed last year: "By 2030, Southern California will be the most inclusive place for people with disabilities to live, learn, work, and play." (info video here) How have you seen that start to play out? What has been the initial reaction you've received?
We were just wrapping up our launch of our new vision for impact, then COVID hit! The initial reaction has been extremely positive. During the pandemic, our whole org needed to pivot to support people in new and dynamic ways. We quickly realized, though, that we were putting all the guiding principles and strategies from our Strategic Business Plan to good use. We were excited to tell Blue Garnet "The plan fits! It's working even during a global pandemic!" We're living out our plan to expand our services to more people, provide leadership in the disabilities field, share learnings with other organizations, and change the way people view disabilities. The plan continues to guide us, and has sparked even more creativity across the organization. If the plan got us through a global pandemic, we know it will continue to serve us well.
BG: Wow, that's so exciting to hear! Thank you for sharing that. After working with Blue Garnet for almost 2 years now, what was the most valuable part of your experience?
Two things come to mind. First, your strengths-based approach of looking at the whole organization. As all orgs, we do have areas we want to improve, but the strengths-focus resonated with us because it mirrors how we approach working with people with disabilities. Secondly, your level of engagement across our organization. BG reached deep to connect with our participants, families, community members, and funders. That process of reaching all our key stakeholders was extremely helpful for us! This input guided our strategies, and continues to guide us to make sure we're doing what is most important for people with disabilities throughout Southern California.
---
We hope that learning more about Easterseals and the challenges people with disabilities face moves you to greater inclusion in your personal life, and louder advocacy for equal access across all spheres of society. Let's be includers!
For more info on Bev or ESSC, click here. To connect with Blue Garnet, feel free to drop us an email at hello@bluegarnet.net.
Back to Blog