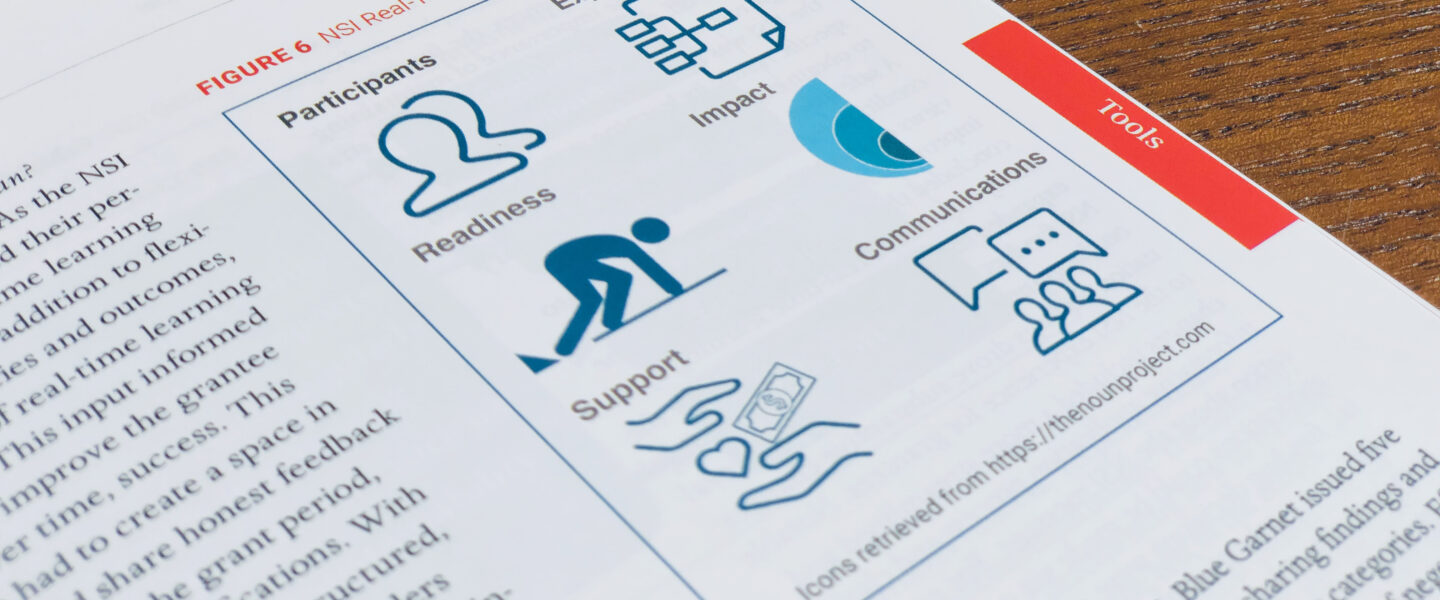 The Need
In 2012, three Los Angeles area funders—Weingart Foundation, The Ralph M. Parsons Foundation, and the California Community Foundation—identified a need to support collaboration among nonprofits. The three pooled resources to fund the Nonprofit Sustainability Initiative (NSI).
NSI's theory of change focuses on removing the stigma around nonprofit strategic restructuring and supporting the exploration of a spectrum of collaboration opportunities.
The NSI began as an 'organic' initiative and the funders wanted to:
Learn about the grantee experience and the Initiative's impact in real-time
Define success for NSI and for grantees
The Support
For five years, Blue Garnet served as the NSI's real-time learning & evaluation partner. Working closely with NSI representatives as the Initiative funders grew in number from three to 17, we:
Designed and conducted "real-time" evaluation of the Initiative, encompassing 177 grantees and $2.7 million in grants disbursed
Created the Initiative's Impact Story, summarizing key learnings
Refined and evolved evaluation framework and tools to answer new learning questions as the Initiative matured
Regularly synthesized and reported evaluation learnings. Facilitated learning conversations with funders, including helping the NSI define success

NSI's definition of success
The Los Angeles County nonprofit sector supports, understands, and regularly engages in strategic partnerships to enhance its impact and sustainability. To achieve this, NSI not only engages nonprofits, but funders, technical assistance providers, and education institutions to create a holistic ecosystem.
The Impact
Blue Garnet has provided NSI with valuable thought partnership—in designing a learning and evaluation plan, adapting it to meet the evolving needs of the Initiative, and preparing for or facilitating key conversations among funders in response to this learning.

Carrie Harlow

Director, The Nonprofit Sustainability Initiative
Blue Garnet created an evolving evaluation framework to answer the Initiative's new learning questions as the Initiative matured. Through this real-time learning, the NSI developed a clear understanding of the grantee experience.
Their learnings led to several real-time programmatic changes and streamlined the application, approval process, and fund delivery timing.
The evaluation work meant that NSI had clear learnings which it was able to share with peer organizations and emerging initiatives nationwide. Information and communication from NSI helped model and drive "normalization" of strategic collaboration in the social sector.
After four years, the evaluation evolved once again. To support the NSI's capacity building and sustainability, Blue Garnet streamlined the evaluation and transitioned the activities in-house to NSI Managing Funders.
Reflection
Blue Garnet excels at translating big-picture goals into an actionable learning process, and messaging key learnings in a digestible and meaningful way.

Carrie Harlow

Director, The Nonprofit Sustainability Initiative
Blue Garnet Project Lead, Shannon Johnson, reflects, "NSI was a great partner because they were organic and nimble. We would discuss the evaluation recommendations and they would be implemented so quickly. It was a true embodiment of the principles of Developmental Evaluation and a great example of the intersection of strategy and evaluation."
A few years after this initial work, Blue Garnet developed the evaluation framework for the Sustained Collaboration Network, the national collaboration of funder initiatives supporting nonprofit strategic restructuring, of which NSI was a founding member. More recently, NSI has once again engaged Blue Garnet to support its newest initiative, a pilot program to normalize yet another stigmatized activity, executive transitions.
"Our past experiences in working with Blue Garnet made them the obvious partner to develop a learning and evaluation strategy for our 2021 pilot program," says NSI Director Carrie Harlow. "We knew they would help us right-size the framework to prioritize key learnings while not overburdening grantee participants, and can help us adapt the approach as the work evolves over time."
Back to Case Studies