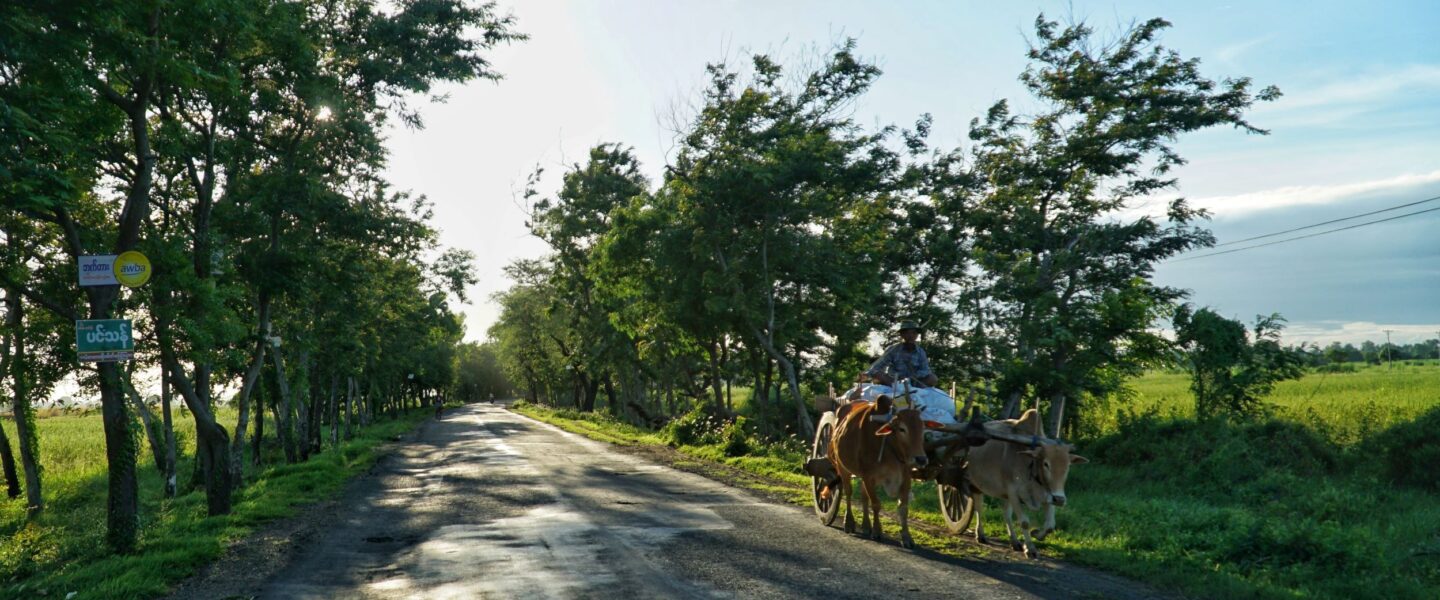 As we celebrate 20 years, we recognize that we would not be here today if it were not for our community. We needed you, partners (as we call our clients), to choose us and trust us to tackle your toughest issues together. We needed our families and friends to cheer us on and support us through the ups and downs of running a social enterprise.
And we needed our teammates! We've been blessed with wonderful, super smart colleagues who went the extra mile for our clients and for our firm. To celebrate our team members who helped make us who we are today, we reached out to several of our "BG Alumni" around the world to check in. We are proud to have played a small part in supporting their development to be the changemakers they are today!
Molly Larson,  Southern California
I was with BG January 2011 – June 2012 and am now Vice President, Program Operations at Chrysalis.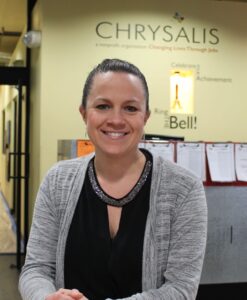 Your favorite BG memory: Working collaboratively with the partners and other new hires in the early stages of BG's expansion. We had an incredible opportunity on a capacity building project with 6 organizations, and I will never forget how proud I was to deliver the final assessments.
A learning from BG: Prioritizing focused time to think and work. The team and I had renamed one of the rooms at the office "Q2" after the Stephen Covey Time Matrix, focusing on "Important but Not Urgent" projects.
What you miss about BG: The "donut office." There was a donut shop nearby that we would sometimes work out of in the mornings. So, just as we had a "Q2" room, we also had a "donut office."
How BG helped you contribute to impact: I gained great perspective on the complicated nature of the continuum of care. The first step was helping organizations get clear on their individual contributions to creating impact, and then helping them be an informed contributor to the broader community.
Madeline Stewart, Southern California
I was at Blue Garnet from 2019 to 2021; currently I'm exploring the field of placemaking—that is, creating vibrant public spaces—most recently through a program at the Universiteit van Amsterdam in the Netherlands
Fave BG memory: I'm proud of the way we partnered with our clients through the many uncertainties of 2020 and beyond— showing flexibility and innovation during some very trying times.
A learning from BG:

Workplans! Prior to joining BG, I always developed detailed plans and distinct strategies for fundraising campaigns, but using a workplan / Gannt chart was new to me

.

 It's an invaluable tool especially for working on complex projects that involve multiple people or teams.
Miss about BG: The camaraderie among my colleagues—especially when we were up against a deadline. I admire the way BG builds systems for working collaboratively (even asynchronously!) to complete excellent work that is always more than the sum of its parts.
Contribute to impact:

BG showed me the importance of communicating a shared vision for change, one that resonates with board members, organization leaders, staff, and the community.

Taylor Chamberlin Rosetti, Southern California
I was at Blue Garnet from around 2014 – 2017, first as an Analyst and then as a Senior Analyst. Now, I'm a Communications Program Manager for The Energy Coalition, a California nonprofit focused on bringing affordable and accessible energy to all.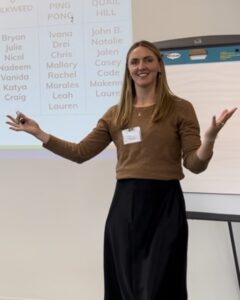 Fave BG memory: So many fond memories! I was most proud of a strategic planning project I worked on with the Coalition to Abolish Slavery and Trafficking (CAST). Kay Buck was an inspiring leader to work with, and their mission is so important!
A learning from BG: Blue Garnet instilled in me a deep respect for a well crafted slide deck. I still use the communications skills I learned at Blue Garnet to this day!
Miss about BG: Of course, it's the BG team! I learned so much from my BG colleagues.
Contribute to impact: Blue Garnet taught me about applying analytical rigor and tangible goals to the "pie in the sky" vision we can sometimes have as changemakers. Working with the Blue Garnet team helped me cultivate a "pragmatic idealist" mindset to getting things done!
Sithu Thien Swe, East Coast
I was at BG from 2011 to 2016. Then I moved to Myanmar to work with Proximity Designs (an agricultural social business,) back to California, and now the East Coast, where I'm working at a Foundation focused on addressing global poverty and climate change.
Fave BG memory: I can't pick one, but I just appreciated the many wide-ranging conversations with Way-Ting and Jenni, either around the conference table, or on the long LA car rides to- and from- meetings.
A learning from BG: Creating structure around ambiguity. The mindset to embrace the challenge of ambiguity, learn as much as I can, and structure my thinking to make sense of the situation and lead towards decisions and actions.
Miss about BG: The people! Both the BG team and our amazing clients.
Contribute to impact:

BG completely shifted my professional trajectory and personal growth. Joining BG just after grad school instilled in me an entrepreneurial and ownership mindset, diligent work ethic, and the practice of continuous learning that set me up for everything since then. I learned so much during my BG time, and I'm grateful for how it equipped me to contribute back home in Myanmar during my five years at

Proximity Designs

, as well as in my current role.
Giselle Timmerman, Spain
I was part-time at BG from 2007 to 2009, then full time until 2012. Now I'm based in Barcelona with Positive Work, where we empower leaders with core skills that ignite performance and grow positive work cultures.
Fave BG memory: I loved the focus groups that I got to run, particularly one with women at Downtown Women's Center. The conversation I had with those women was so humbling, warm, and hopeful. We were sharing perspectives on what it meant to not be homeless and specifically what it meant to have a home. What emerged still makes me emotional today — having a key to one's door.
A learning from BG: To begin with the end in mind! Thanks to Jenni and Way-Ting (and Stephen Covey), this simple principle brings both clarity and meaning to any discussion — from brainstorming to decision-making to planning.
And I didn't quite realize it at the time, but I had a peek into what it takes to run a small company and witness female entrepreneurs giving it their all. These role models stoked my own entrepreneurial spirit and I'm so grateful to still have these role models in my life today!
Miss about BG: Thought partnership with sharp, committed, and thoughtful learners.
Contribute to impact:

At BG, it was a privilege to learn first-hand how leaders create and sustain gritty teams to tackle complex problems and purposeful goals. This experience informed my career pivot after BG— deciding to focus exclusively on supporting leaders to ignite the performance and resilience of their teams, while growing positive work cultures.
Sofia Van Cleve, Middle East
I started off at BG in 2018 as an Analyst then Senior Analyst, before I took off in 2021 to move overseas. I've been back since Fall 2021 as our part-time Marketing & Communications Specialist, while continuing to serve refugee communities in the Middle East.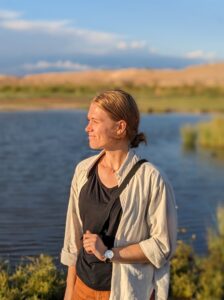 Fave BG memory: working with a global transportation company on new socially-focused products
A learning from BG: Working at BG made me love Excel, and I now use it across my work and personal life!
Miss about BG: I miss the regular "water cooler" conversations with the team about how to reduce food inequity in LA, improve racial relations, and transform global humanitarian aid, among other intellectually stimulating topics!
Contribute to impact: BG taught me that we need to work with all the players in the social change ecosystem, so I have a broader curiosity and understanding of all the various players (and their power dynamics) on the journey to renewing our society and planet.
Thank you to these BG Alumni, and many more, who have made a lasting impact on Blue Garnet and our communities. If you're curious to learn more, you can check out our current team and work, or reach out to hello@bluegarnet.net.
Back to Blog