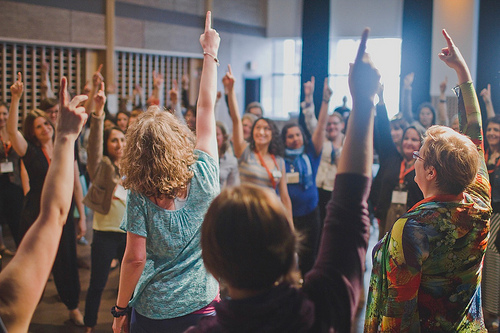 Hockey, maple syrup, and free health care, eh? That's right…Way-Ting and I traveled to the exotic, far-off land of Canada for Social Venture Institute's Women's Conference. In all seriousness, our time spent getting to know and learn from 120 women social entrepreneurs, both non-and for profit, in Vancouver was truly a gift.
It was a rare pleasure to go to an event like this – just be with other women balancing the triple bottom line, not to sell or to teach, but to listen and absorb. My conference highlight was listening to "True Confessions" of successful social entrepreneurs. They talked openly about their struggles, failures, near breaking points and hard decisions – topics that far too often kept close to the vest as you really learn the most when you are pushed to your limits. I especially appreciated these brave volunteers, as I have grown and been stretched the most as an entrepreneur in the last couple of years. In fact, it wasn't until we survived the challenges of the economic recession over the last few years that I truly knew I was an entrepreneur. We should all be so bold as to openly discuss our failures. We all have a lesson to share. What's yours?
Back to SVI….while I can't share their confessions – check out these fascinating organizations for true case studies in social entrepreneurship:
Nature's Path: To sell or not to sell? This husband and wife founder team made the hard decision to remain an independent family-run business in order to ensure the company's values and mission live on. They are about so much more than just breakfast food. (http://us.naturespath.com/home)
Mammachia: Growing from producing her organic juices in her kitchen to national distribution at Whole Foods in just one year…seriously? This was not without growing pains and her tenacity and gumption to say "no" to certain demands in order to grow sustainably is truly inspirational. (http://www.mammachia.com)
Fairware.com: Think conference swag with a purpose – both ethically sourced and environmentally sustainable – at the same price as the standard, boring tchotchkes that we all know too well. (http://www.fairware.com)
LunaPads – With a vision of healthier women and planet, LunaPads creators designed reusable menstruation products and now 1 million disposable pads and tampons are kept from landfills every month. (http://lunapads.com)
As if that wasn't enough, this conference gave us time to retreat from our day-to-day work and have time to really "crack some nuts" for Blue Garnet. We allowed ourselves to dream about Blue Garnet's future without our usual constraints and, I have to say, we're pretty excited.  We have renewed energy and focus on what we're trying to do and how we can achieve our impact. Stayed tuned for more.
Thank you SVI and we'll see you next year! Who's coming with me?….
Back to Blog